On September 28, 1991 the world lost a legend - the great Miles Davis. On that same day another legend was born, the world just doesn't know it yet. My name is Chris Range and this is my path to become
a legend.
I'm a songwriter/ saxophonist based in NYC and I've known I've had a passion for music for a while now.  When I was in high school, my love for music became pretty apparent to me when a wrestling injury brought my season as "Chris the Crippler" to a close (Yes, that was my nickname and yes, it's hella ironic that I was the one severely injured). When the doctor broke the news to me of possible paralysis in my right hand, all I could think about was how I might not be able to play the sax again. I'm thankful that I still can, and I plan to make the most of this talent in hopes of sharing my passion with you.
 If you like what you see and hear, sign up for my newsletter and watch my story unfold. Thank you for checking out my site!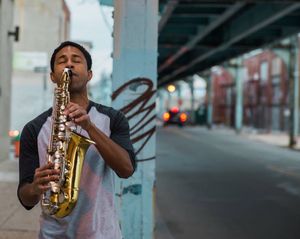 Latest Tracks
Curious about my sound? Please take a listen to some of my covers/ songs and check out my instagram if you'd like to hear more!
0:00/1:49

0:00/3:59

0:00/2:36